AHS Class of 1960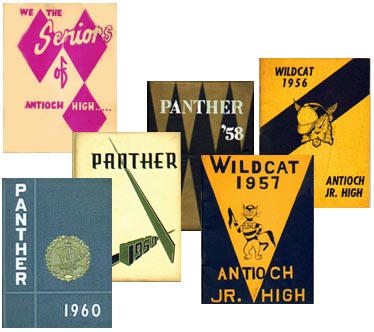 ---
You have reached the web site of the Antioch High School Class of 1960. It is a little bit password protected—not truly secure but perhaps secure enough so that search engines won't easily find what we have posted on our web site.

Click here to give a UserID and a password and to get to the body of our web site.

Seven valid userid/password combinations are listed below.
In each case below, the word in ALL CAPS is a userid and BLANK stands for the matching password.
Type both the userid and password in all lower case without punctuation or spaces.
For example, if there was a clue that said:
COUNTY BLANK, across L St. from the high school where we experienced skidding on gravel and learned to parallel park,
then userid is "county" and the password is "fairgrounds".
Now, find a real clue below you can crack and click above.
Coach BROOKS BLANK, varsity football coach before Art McGrath
BLANK DRIVEIN, near corner of Somersville Road and the Pittsburg/Antioch Highway
RIVERVIEW BLANK, restaurant across the railroad tracks in the block behind the pool hall
BLANK THEATER, at corner of 10th and G Streets
BLANK and DEE, first names of the owners of a "resort" out on a pier near the downtown Fibreboard plant where a lot of Oly and Coors was served
BLANK AUDITORIUM at the high school, named after long time teacher
OTIS BLANK, assistant principal in charge of discipline
If you can't make a password work, email me at