AHS Class of 1960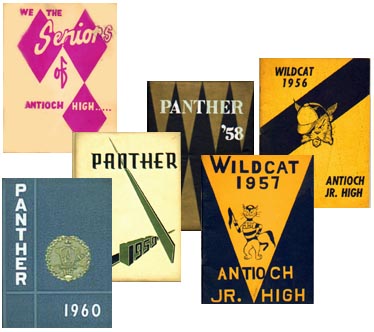 ---
You have reached the web site of the Antioch High School Class of 1960. It is a little bit password protected—not truly secure but perhaps secure enough so that search engines won't easily find what we have posted on our web site.

THIS WEBSITE IS NO LONGER MAINTAINED OR UPDATED AS CLASS COMMUNICATIONS NOW HAPPENS VIA FACEBOOK.

Click here to give a UserID and a password and to get to the body of our web site.
The userid is now the word "class" ; the password is the text "ahs60"

If you can't make a password work, email me at


The password stuff below this is no longer relevant; I only keep it for historical reasons

Seven valid userid/password combinations are listed below.
In each case below, the word in ALL CAPS is a userid and BLANK stands for the matching password.
Type both the userid and password in all lower case without punctuation or spaces.
For example, if there was a clue that said:
COUNTY BLANK, across L St. from the high school where we experienced skidding on gravel and learned to parallel park,
then userid is "county" and the password is "fairgrounds".
Now, find a real clue below you can crack and click above.
Coach BROOKS BLANK, varsity football coach before Art McGrath
BLANK DRIVEIN, near corner of Somersville Road and the Pittsburg/Antioch Highway
RIVERVIEW BLANK, restaurant across the railroad tracks in the block behind the pool hall
BLANK THEATER, at corner of 10th and G Streets
BLANK and DEE, first names of the owners of a "resort" out on a pier near the downtown Fibreboard plant where a lot of Oly and Coors was served
BLANK AUDITORIUM at the high school, named after long time teacher
OTIS BLANK, assistant principal in charge of discipline