Alumni Association
The 1998 SFSU Alumni Hall of Fame Inductees

Evelyn Ballard, M.D. (attended '39-'41)
University Physician
After earning her medical degree in the early 1940s at Stanford,
she returned to State as physician and deputy medical director
and stayed through 1977. At one time, she was the only doctor
for 1200 students. She initiated the Women's Clinic, the first in
the CSU to make birth control available. Past national president
of Campfire, Inc., now Campfire Boys and Girls, she was responsible
for bringing boys into the program. Author of numerous articles
and workshops on sexuality, conflict resolution, family life and
wellness promotion for seniors.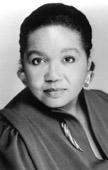 Melba Beals (BA '71, Journalism)
Author and Civil Rights Heroine

Author of the award-winning Warriors Don't Cry, a searing
memoir of the battle to integrate Little Rock Central High School
40 years ago, Ms. Beals is also a journalist and news reporter. In
1957 she was one of the Little Rock Nine--nine African American
children whose effort to integrate Little Rock's all-white Central
High School became the flashpoint of the emerging civil rights struggle.
Kenneth Fong (BS '71, Biology)
Silicon Valley Pioneer and Leader

Founder and CEO of CLONTECH Laboratories in Palo Alto,
largest company of its kind founded and run by an Asian
American. Selected by Inc. Magazine as one of the 500 fastest
growing companies in the U.S. Selected by San Francisco and
San Jose business journals as one of the one hundred fastest
growing companies in the Bay Area.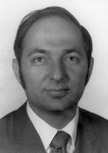 Stan Mazor (attended early '60s, Mathematics)
Microcomputer Architect
As co-inventor and patent co-holder of the original computer
microprocessor, Mazor is responsible for developing the first
single-chip, general purpose computer central processor, which
became the basis for all microcomputer technology that followed
and is considered one of the most important technological
developments of the last half of this century. In 1996, he was
inducted into the National Inventor's Hall of Fame, to be honored
alongside Edison, the Wright brothers, and others whose
inventions have been turning points in the development of
modern technology.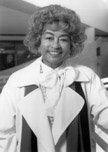 Alma Ribbs (BA '58, Home Economics;
CR '59, Secondary Education; MA '71, Social Science)
Educator, Lawyer, and Business Trailblazer
As a teacher in the San Francisco Unified School District for
sixteen years, she was affectionately known as "Mother Ribbs"
by her students. After attaining her law degree, she co-created
the first and only African-American built and owned mortuary
in San Francisco. Recipient of the Business & Professional
Women's Association Achievement Award, Dr. Ribbs has
devoted a lifetime of commitment to education and community
service.
David Walden (BA '64, Mathematics)
Internet Pioneer

A member of the small team of engineers that developed the
ARPANET, the precursor to the Internet. The first Internet
programmer, he was involved in numerous Internet
innovations between 1968 and 1980. The outgrowths of these
early technologies are today key components in the transition
humankind is undergoing from the industrial age to the
information age.


Return to Alumni Association homepage